Why go to the Greek Islands? The question should really be, "Why not?" With more than 1,400 beautiful islands, each offering something unique along with a common thread of fantastic food, picturesque beaches and incredible weather, deciding which to choose may be the hardest part. These top resorts may help make that decision a little easier.
The Best Beach in Greece

A personal favorite is Elafonissi Beach in Crete. A magical lagoon-like setting with great sand and a wonderful swimming area. Mykonos has the deserved reputation as the a beach paradise with a vibrant nightlife. While Naxos is great for beach lovers looking for a quieter, more relaxed island. Santorini is the most magical island in Greece but not really because of its beaches. Go to Santorini for its views, tours, hikes, and food and wine.
The Best Beaches in Greece
| Beach | Island | Best For |
| --- | --- | --- |
| Elafonisi | Crete | Everyone |
| Platys Gialos | Mykonos | Fun & Activity |
| Plaka | Naxos | Relaxation |
| Faraga | Paros | Swimming |
| Mylopotas | Ios | Great sand |
| St. Paul's | Rhodes | Beauty |
| Perissa | Santorini | Clear water |
The 19 Best Beaches in Greece
1. Elafonissi, Crete

The best beach in Greece: Elafonissi on the south coast of Crete. There isn't much else nearby besides a few small hotels so most people do a day trip from Chania or Rethymnon. Recommended Beach Hotels: Elafonisi Resort by Kalomirakis Family • The wonderful town of Paleochora is a one hour boat ride away. Recommended Paleochora Hotels: Caravella Luxury Apartments (moderate) • Aris Hotel (budget)
2. Mylopotas Beach, Ios

Wonderful sand and a quick drop-off for people who like to swim. Stay at either Mylopotas Beach or in the fun main town (Chora) up on the hill (lots of nightlife if you want it, easy to avoid if you don't). Recommended Hotels: Ios Palace Hotel & Spa (luxury) • Nissos Ios (budget) • Rita's Place Hotel (budget)
3. Plaka Beach, Naxos

Naxos has many great beaches and if you're looking for an island with a large variety of beaches it should be at the top of your list. Naxos Town is wonderfully charming and St George beach (a short walk away) is a great town beach. But down the southwest coast there are many others that are even better: Agia Anna, Agios Prokopios, Mikri Vigla, Pyrgaki – and perhaps the best of the lot, Plaka beach. I recommend staying in Naxos Town and taking the frequent buses to the beaches down the coast. Recommended Beach Hotels in Plaka: Iria Beach Hotel • Recommended Beach Hotels in Naxos Town: Nissaki Beach Hotel (luxury) • Naxos Resort Beach Hotel (moderate) • Xenia Hotel (budget)
4. Platys Gialos, Mykonos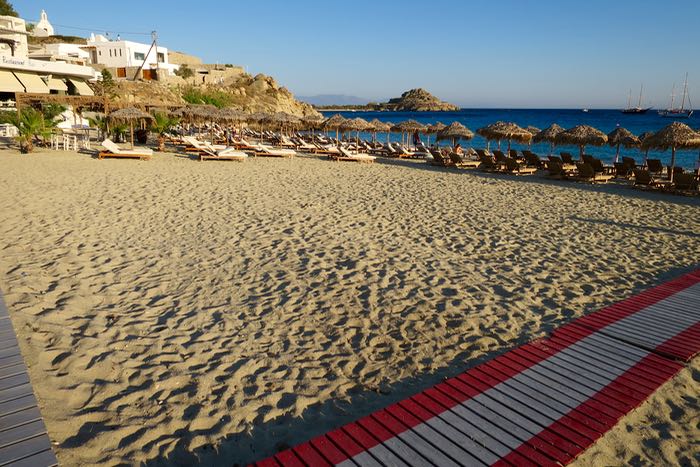 The best beach on Mykonos and backed by hotels and restaurants. A fun mellow vibe through the day becomes a romantic/trendy vibe at night. Recommended Beach Hotels in Platys Gialos: Branco Mykonos (luxury, right on the beach) • Petasos Beach Resort & Spa (luxury) • Myconian Ambassador (luxury) • Petinos Beach Hotel (moderate)
5. Ornos Beach, Mykonos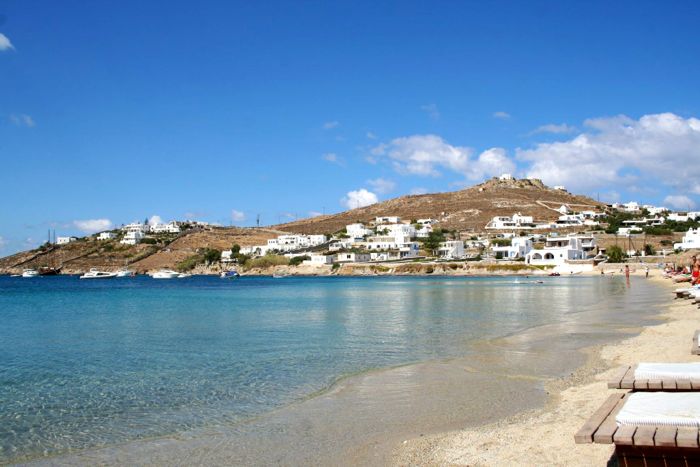 The most family friendly beach on Mykonos. Great sand and calm relaxing water with a shallow slope. Kostantis restaurant serves incredible food right on the beach. It's 10 minutes by bus from Mykonos Town. Recommended Beach Hotels in Ornos: Kivotos Luxury Boutique Hotel (luxury – great for honeymoons) • Santa Marina Resort & Villas (luxury – great for families) • Belvedere Hotel (luxury, my favorite hotel in Mykonos Town)
6. Mytros Beach, Kefalonia
Myrtos beach on Kefalonia. Recommended Beach Hotels: Odyssey Villas (moderate – great place but you do need a rental car)
7. Paleokastritsa, Corfu

Paleokastritsa is a series of bays on beautiful Corfu. Recommended Hotels: Zefiros Traditional Hotel (moderate)
8. Stafylo Beach, Skopelos
Stafylo is one of the many great beaches on Skopelos. Recommended Beach Hotels: Skopelos Village (moderate) • Denise Hotel (budget)
9. Koukounaries Beach, Skiathos

Koukounaries Beach on Skiathos. Absolutely beautiful. Recommended Hotels: Skiathos Palace Hotel (moderate) • Golden Beach (budget) • Meltemi Hotel (budget – in Skiathos Town)
10. St Paul's Bay, Rhodes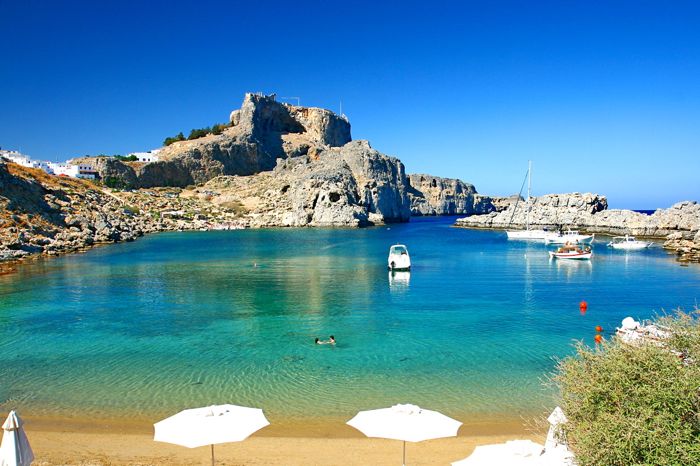 A great little swimming spot near the castle at Lindos. The east coast of Rhodes is loaded with great beaches (including Faliraki and Lindos), but anything west of Rhodes Town will be very windy. I love staying in beautiful Rhodes Town and busing to the beaches through the day. Recommended Hotels: Atrium Palace Thalasso Spa Resort And Villas (luxury – near Lindos) • Spirit Of The Knights Boutique Hotel (luxury – Rhodes Old Town) •
11. Faraga Beach, Paros

Paros has many great beaches – some of them like Golden Beach, Pounda, and Piso Livadi are a bit too popular. Faraga is located in the south (protected from the meltemi winds) and away from the main towns. I recommend staying in Parikia and making a day trip to the beaches on the east and south coast. Recommended Hotels in Parikia: Argonauta Hotel (moderate) • Captain Manolis (budget)
12. Sarakiniko, Milos

Is this a beach? Who knows, who cares. Mylos has many great little coves for swimming and sunning. Sarakiniko is one of the best spots to swim and relax. (Although the true highlight of Milos is a boat tour along the coast.) Recommended Milos Hotels: Milos Breeze Boutique Hotel (moderate) • Eiriana Luxury Suites (moderate)
13. Kamares Beach, Sifnos

Sifnos – a quiet island in the western Cyclades – is loaded with great beaches and Kamares is one of the best. The water is shallow and perfect for kids and there are many tavernas and hotels nearby. Recommended Hotels: Delfini (moderate) • Morpheas Pension Rooms & Apartments (budget)
14. Matala Beach, Crete

A great little town. The cliff at the end of the beach is filled with caves that you can explore. Recommended Hotels: Matala View (budget)
15. Shipwreck Beach, Zakynthos

Accessible by boat on a day trip. Take one of the smaller operators out to the beach and you'll be able to explore some caves. The beach is always busy but the magical setting makes it all worthwhile. Recommended Hotels in Laganas: Castelli Hotel (moderate)
16. Vai Beach, Crete

The best beach in eastern Crete and backed by a unique palm forest (the only one in Europe). Vai is a good day trip from Sitia. Recommended Hotels: Petras Beach (budget)
17. Perissa Beach, Santorini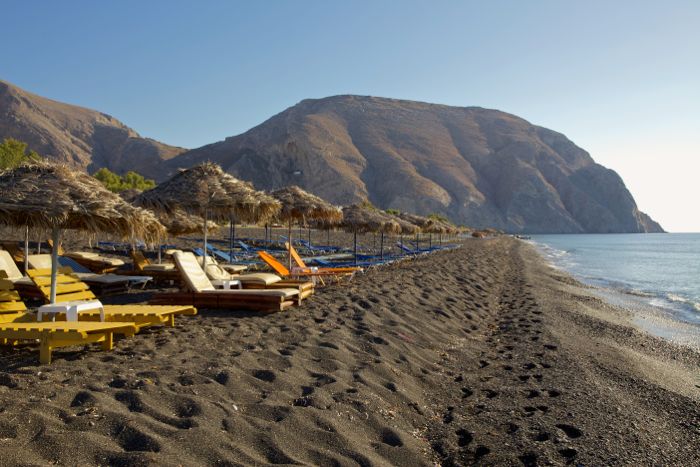 The nicest beach and sand on Santorini. Great restaurants and low-key bars are spread along the waterfront down to Perivolos Beach. A taxi-boat connects Perissa with Kamari Beach (the trip takes 10 minutes and is quite fun). Recommend Hotels in Perissa: Meltemi Village Hotel (moderate) • Recommended Hotels in Kamari: Santorini Kastelli Resort (luxury) • Tamarix Del Mar Suites (luxury) • Sigalas Beach Hotel (moderate, right on the beach)
18. Red Beach, Santorini

Santorini has some of the most unique beaches in Greece. They aren't of the soft white sand variety. Most are composed of volcanic sand and are red, black, or grey. Nearby Akrotiri has hotels for all budgets but it's better to stay in Fira and make a day trip by bus. Recommended Hotels in Akrotiri: Astarte Suites (luxury) • Apanemo (moderate)
19. Vouliagmeni Beach, near Athens

The best beach near Athens and about an hour's trip by bus from the city center.
18 Most Magnificent Resorts in the Greek Islands
Daios Cove Luxury Resort & Villas, Crete
A top honeymooning spot, Daios Cove is a 5-star resort in the northeast region of Crete. It's set on picturesque and secluded Vathi beach, nestled in a private cove near the town of Agios Nikolaos. From lavish surroundings to the utmost in luxurious amenities like a seawater infinity pool, state-of-the-art spa, watersports center and even private yachting excursions as well as scuba diving and water skiing expeditions, Daios Cove truly offers an unforgettable, one-of-a-kind experience.
Elysium Resort and Spa Rhodes, Rhodes Island
Elysium Resort and Spa on Rhodes Island is a chic resort located on Kallithea beach next to Kallithea Springs and just five miles to Rhodes town. It features a beautiful outdoor lagoon-style swimming pool and a separate Hydro-massage pool as well as a full-service spa that was named on National Geographic Traveler's list of best spa resorts in the world. You'll find an impeccable style and attention throughout, along with the utmost in services and culinary delights inspired by a blend of European, Mediterranean and International cuisines.
Saint Andrea Seaside Resort, Paros Island
Saint Andrea Seaside Resort in Naoussa on the north side of Paros Island in the central Aegean Sea, offers breathtaking views of the bay just steps from one of the island's most beautiful stretches of sand, Kolympithres beach, as well as heavenly turquoise waters. With Cycladic architecture combined with French finesse, the result is a luxurious atmosphere that has the feel of another era. The long list of amenities includes massage and beauty treatments as well as an elegant restaurant serving Greek, American and Mediterranean cuisine.
Mykonos Grand Hotel and Resort, Mykonos Island
Mykonos Grand Hotel and Resort sits on Mykonos, one of the Greek island's most famous cosmopolitan destinations. Mykonos may not be for those who are looking for peace and tranquility, but it does fit the bill for those looking for some of the hottest nightlife in the islands along with spectacular scenery. The resort is located right on Agios Ioannis Beach, with accommodations set among cobblestoned paths overlooking Delos Island. Rooms and suites combine Cycladic architecture with soothing interior décor and modern amenities like satellite TV and an iPod docking station – each unit opens out to patios or balconies, with a sea, garden or pool view. Enjoy feasting on fresh seafood and other Mediterranean dishes in the open-air dining room or near the pool while taking in panoramic sea views.
Located near the historical town of Chania on Crete, this special retreat has a prime spot on the golden sands of Glaros Beach and caters to adults, particularly those who are seeking a romantic getaway. It features a number of swim-up rooms where guests can enter the pool right from their room's terrace, and it also includes a spa with a suite dedicated to luxurious couples' treatments, a sauna, gym and steam bath. There are several dining establishments onsite, including Wine Cellar Fine Dining, Greek, Italian and Asian eateries.
Halkidiki is filled with lush forests that reach to the edge of beautiful beaches and azure waters creating an intoxicating blend of vivid greens and blues. It is here you'll find the Ikos Oceania, an all-inclusive Greek getaway perched upon an amphitheatric hill surrounded by cypress, pines and olive groves. One of the top all-inclusive properties in the world, it features a private golden sand beach, rooms with spectacular sea views, a pampering spa, tennis courts and swimming pools. Dine on sumptuous Greek buffets, Asian dishes and authentic Italian meals, or dine in the coastal town of Nea Moudania, just a 10-minute walk from the resort.
La Mer Deluxe Hotel & Spa is located in the village of Kamari on the island of Santorini and features chic aesthetics and traditional Cycladic architecture as well as elegant, upscale accommodations. Located just steps from the beach, it offers gourmet meals, the opportunity for indulgent pampering in a spa with a Jacuzzi and Turkish baths, as well as the chance to experience some of the most incredibly beautiful sunsets overlooking the volcano and nearby islands. As a bonus, it's frequently named as one of Santorini's best.
Domes of Elounda is a luxury resort on the island of Crete exemplifying the essence of the Mediterranean, including its culture, cuisine and architecture. This elegant retreat features secluded suites as well as a decadent spa with a black mosaic seawater pool, glittering black and gold hammam, sauna, steam bath and Jacuzzi in addition to multiple restaurants. Accommodations are spacious, and some include a private pool, while blending in with the surroundings offering jaw-dropping ocean views from a hillside of brilliant flower gardens, olive groves and stone pathways.
Located on Mykonos Island, the Myconian Imperial Thalasso Spa is a 5-star luxury resort offering breathtaking views of the Aegean Sea and Elia beach in the southern and most renowned part of the island. It also features spa facilities with a menu of facial and body treatments, gourmet fare including Mediterranean cuisine, a Jacuzzi and multiple swimming pools. Executive suites include a private infinity pool, luxurious amenities and unsurpassed views.
Lindos Blu, Rhodes Island
Lindos Blu is located on a tranquil hillside with incredible views of the Mediterranean as well as direct access to its own private beach. Catering to adults only, it's ideal for a romantic jaunt, like honeymoons and anniversary celebrations. Set amidst a steeply sloping landscape amphitheater-style, its rooms, suites and villas all overlook a breathtaking panorama of Vlicha Bay. Guests also have access to a tennis court, spa, sauna, steam room, gym and two pools. Dining options include the Five Senses Gourmet Restaurant, Smeraldo A' la Carte, Luna Rossa Lounge Bar and the Allegro Pool Bar.
Atrium Prestige, Rhodes Island
Atrium Prestige is an exclusive 5-star spa resort that is located in a picturesque setting near the sea on the eastern coast of Rhodes Island, directly on a magnificent beach providing stunning views of the Mediterranean. Spacious rooms feature hand-painted ceilings as well as uninterrupted views of the crystal waters and sands below. Relax at the full-service spa with an extensive menu of body treatments, massages and facials or take advantage amenities like a sauna, indoor pool and health club. Choose from room-only as well as all-inclusive rates with dining options that include six restaurants and a coffee shop as well as 24-hour room service, a poolside bar and lounge.
Sani Resort offers 5-star accommodation in a privately owned and family-developed ecological reserve with a yacht marina and distinctive hotels, including Sani Beach Hotel. Set in a breathtaking location on Cape Sani, it offers amazing views and over five miles of golden sandy beaches framed by the crystal clear waters of the Aegean as well as the beautiful pine forests of the Kassandra peninsula. Enjoy upscale eateries like the elegant Veranda Restaurant, first-rate entertainment, sports facilities and an enticing spa with a wide range of soothing massages and treatments as well as a thermal suite with sauna and steam rooms.
Santa Marina Resort & Villas on Mykonos Island features a breathtaking seaside location as well as impeccable facilities along with an exclusive, private sandy beach with nearly 500 feet of silky sands at the edge of crystal clear azure waters. The resort offers luxurious rooms and suites, some with a private pool, and all featuring a private balcony with stunning sea views. For the best of the best, choose an exclusive villa sitting atop the hillside among lush gardens, where discerning guests can also enjoy butler service. The waterfront Buddha-Bar Beach Mykonos offers gorgeous sea views from a beautiful honey-wood terrace and a menu with Mediterranean cuisine inspired by local seafood and Asian influences. Guests also enjoy access to the Lotus Spa with its three swimming pools, sporting facilities and water recreational activities.
Castello Boutique Resort & Spa, Crete
Castello Boutique Resort & Spa is a 5-star luxury resort that is situated in the traditional seaside village of Sissi in eastern Crete, one of the most beautiful and desirable locations on the island. The establishment boasts timeless elegance and rooms with private terraces overlooking tropical gardens as well as spectacular views of the serene landscape. The picturesque outdoor freshwater swimming pool equipped with fiber-optic effects, an ultra-modern spa with indoor pool, sauna and steam room, all provide the ultimate in indulgence and relaxation. Elea Premium Restaurant features panoramic mountain views and local as well as international gourmet fare.
Rodos Palladium, Rhodes Island
The Rodos Palladium is a breathtaking resort located on Kallithea Beach on the island of Rhodes, the largest and most popular of the Dodecanese, a group of 12 larger plus 150 smaller Greek islands. The especially romantic Old Town is among the best-preserved medieval towns in Europe, with an impressive castle, strong walls and magnificent stone mansions. Guests at Rodos Palladium enjoy an inviting, island-style outdoor pool, an indoor pool, on-site entertainment and a wellness spa. Working off all that fine cuisine isn't difficult, with a fitness center, tennis courts, basketball court and a miniature golf course. If that isn't enough, you can always cool off and have fun at the second-largest waterpark in Europe, less than a mile away.
Kontokali Bay Resort, Corfu
The Isle of Corfu, the northernmost of the Ionian Islands, features plenty of sun, sea and souvlaki. But there is a lot more to it than that. Compared to most other Greek island "capitals," Corfu Town is a thriving metropolis, and its Old Town is filled with fascinating historic sights. With a large student population, Kerkyra Town offers a lively nightlife all year long. At Kontokali Bay Resort, which sits on a wooded peninsula at the edge of a brilliant blue sea, you can spend your days lounging on one of two private sandy beaches, or enjoy the gorgeous outdoor seawater swimming pool. It also boasts a full-service spa, fitness center, Jacuzzi and saunas.
Minoa Palace Resort & Spa, Crete
Minoa Palace Resort & Spa is a luxurious beachside hotel located in Platanias on the island of Crete, the largest in Greece, where you'll find remnants of brilliant civilizations, spectacular beaches and the impressive White Mountains. Guests of Minoa Palace enjoy breathtaking views of the mountains as well as the surrounding countryside and panoramic vistas of the golden beach of Platanias with the dazzling sapphire blue Aegean just beyond. Rooms in the Imperial Beach Wing feature direct sea views and even a private pool. The resort has its own private beach, while its spa features a 2700 square-foot indoor pool, hot tub and sauna as well as the opportunity for indulging in aromatherapy treatments and hot stone massages.
Santorini Kastelli Resort, Santorini
Santorini Kastelli Resort is a five-star resort located in Kamari on the island of Santorini. It sits at the foot of the hill of Ancient Thira, just steps away from the black sands of Kamari beach. Built in the traditional Cycladic architectural style with white-washed walls that create a stunning contrast to the typically bright blue skies as well as open garden spaces, guests can enjoy lazing on the beach and soaking in the sun, or more active pursuits like tennis, swimming and exploring the ruins of Ancient Thira. The hotel also offers a full-service spa lit by aromatic candles, filled with the soothing sounds of calming music as well as an extensive menu of relaxation and beautification treatments, and a gourmet restaurant with savory Mediterranean creations.