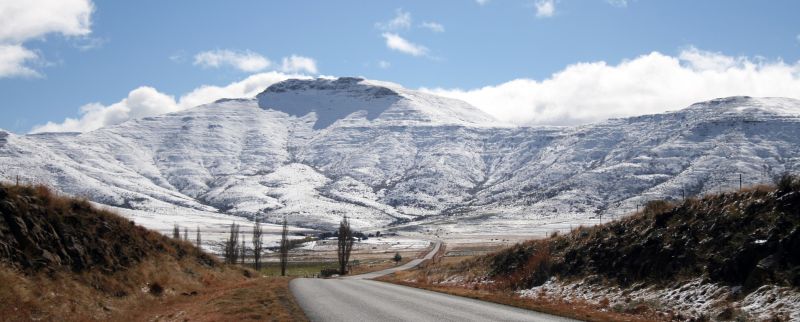 From the month of May till the September it is winter in South Africa. But don't think that the winter isn't a good time to visit the most beautiful country on the planet. Visiting South Africa in the winter is amazing and some things are even better in the winter!
Think about safaris. In the North the winter is dry and by far the best time to spot wildlife as there is limited water supply. So the animals have to go to water holes to drink, if you are lucky you can spot lots of animals clustering around these holes. The vegetation is also thinned out due to the dry season and this means that the animals are much easier to spot.
Winter is also whale season in South Africa. It is the best time to spot the whales who are coming to the South African coasts to mate and calve. The whales can be spotted along the entire coast but Hermanus (a coastal town circa 115 km from Cape Town) has been recognized as one of the twelve best whale watching destinations in the world by the World Wildlife Fund. It is a truly once in a life time experience to see these peaceful giants of the sea from so close.
Spring flower season in the Cape Region starts in August and runs till the end of September. When the weather conditions are right you can see flowering plants everywhere you are looking it will look like a yellow, orange or pink sea of flowers. It is a magical sight.
The July holiday period will soon be upon us, and if you're thinking of taking your friends or loved ones on a winter trip, now is the time to get it booked, if you haven't done so already. There are plenty of destinations spread across South Africa to take your well-deserved break in, that offer activities to suit every want or need. If you're dreaming of snuggling up next to a fireplace with a glass of red wine, looking forward to getting your fill of nature on a mountain hike, or keen to spot and photograph the wonderful varieties of flora and fauna the country has to offer, there is a destination for you. From mountain ranges and caves, to wide open landscapes and small farm towns, here is a list of some of South Africa's top winter destinations.
Hogsback
Situated in the Amathole Mountains in the Eastern Cape, roughly 30 kilometres from the town of Alice, the mountainous area is said to have inspired J.R.R. Tolkien's The Lord of the Rings. Local residents have kept the myth alive with names like Hobbiton, Rivendell, The Shire and Middle Earth being used as property names throughout the town. Hogsback offers breathtaking forests and waterfalls, and various nature-filled activities for day visitors, and for those planning to stay for a few days.
From bed and breakfasts and hotels, to self-catering cottages and camping, there is an accommodation option to suit everyone. Hogsback can be visited all year round, and while temperatures do drop dramatically in the winter months, the rainfall season occurs during the summer months, along with thunderstorms. Activities range from horse riding and hiking, to mountain biking and bird spotting. Whatever your desire, your trip to Hogsback can be just as relaxing or adventure-filled as you want it to be.
Prince Albert
A small farming town in the Central Karoo, Prince Albert is roughly 400 kilometres from the bustling city centre of Cape Town. Named after Prince Albert, husband of Queen Victoria, the town is predominantly a farming town which includes olive, wine, fruit and sheep farms, and saw many a battle between British and Boer soldiers during the Anglo Boer War.
Prince Albert is an all-year-round destination, catering to the interests of anyone and everyone. The local farms are open for wine and olive tastings, take a tour of the cheese-making process at the local dairy, have breakfast at the Saturday morning market, catch a show at The Showroom Theatre, pop into the mohair weavery or enjoy the outdoors on a hike, or opt for a guided historical tour through town.
Drakensberg
The Drakensberg mountain range spans roughly 1 000 kilometres, forming a natural border between Lesotho and KwaZulu-Natal. Well-known for its breathtaking views, waterfalls, rock pools, caves and San rock paintings, the range also holds a UNESCO world heritage site, the uKhahlamba-Drakensberg Park. The reserve is home to a large number of flora and fauna, particularly the southern white rhinoceros and the black wildebeest.
Boasting the highest mountain range in the country, its peak reaches 3482 metres above sea level, and provides the perfect setting for various hiking trails. Tourists can also take part in water rafting, abseiling, tours of the San rock paintings, fishing and animal spotting. If you do want to partake in one of the adrenaline-filled activities, it's advised to have Travel Insurance in place, in the unfortunate event that an accident occurs. The Drakensberg can be visited all year round, depending on your preference. Spring and autumn sees moderate temperatures between 20 and 30 degrees Celsius. Summer brings with the dramatic thunderstorms while it can get very cold in winter with sub zero temperatures and the possibility of snow. This destination provides a tranquil escape from the hustle and bustle of the city, and is only about 300 kilometres from Durban.
 Kruger National Park

"Without a doubt, the best winter destination in South Africa for wildlife viewing is the famous Kruger National Park. Located approximately 390 kilometres north east of Johannesburg OR Tambo International Airport, it is only about a four-hour drive to this wildlife paradise. You could also fly into Kruger Mpumalanga international Airport if you're not a fan of the road."
"Not only is the Kruger one of the largest national parks in Africa, it also has an incredibly high density of animals, including all of the Big Five. The best time of year to visit the Kruger is between May and September. While the rest of the country is mostly cold and wet, the Kruger area is experiencing its dry season, which results in less vegetation for animals to hide behind and great opportunities to spot and photograph the local wildlife."
Franschhoek
The small town of Franschhoek, is located within the Franschhoek wine valley just under an hour from Cape Town. Originally occupied by the French Huguenots in 1688, a number of wine farms still bear their original French names, with the region known as the food and wine capital of South Africa. The town is home to eight of the top 100 restaurants in the country.
While it may be a small farm town, it boasts a number of activities for tourists to enjoy. The Franschhoek Wine Tram provides a guided tour of eight iconic wine estates, where passengers can hop on and off as they wish. The Franschhoek Bastille Festival is an annual celebration of the region's French heritage with local gourmet food, wine, music and arts and crafts on offer. The festival takes place in July every year, with this year's festival set for 15 and 16 July. Apart from the world class food and wine, the region also offers various walking and hiking trails amongst the mountains. While the winter months are cold and rainy, Franschhoek is the perfect destination for a winter break as holidaymakers can warm up inside the vast number of restaurants and enjoy the local cuisine and wine.
As a number of hotels, B&B's, self-catering cottages and campsites offer winter deals during the colder months, take advantage of them and book a trip to one of these city escapes. While it may still be cold, there's plenty of opportunity to keep yourself warm with the vast number of relaxing and adrenaline-filled activities on offer in some of South Africa's most beautiful destinations.
South Africa does not do blizzards and snow banks. You will never (except on very rare occasions) find your plane grounded for ice on the wings.
In fact, the deepest snow you'll find is deep in the mountains, or on their peaks.
The daily average temperature is between 16-20 degrees C (61-68 degrees F), in Durban and Mpumalanga it's even higher, around 23 degrees C.
Which is why winter is the country's secret season. Read on to find out where to travel, and why winter in South Africa is such a great idea.
10 Top Towns for Winter in South Africa

Durban
Because it doesn't take rocket science to work out that the intense humidity of February and March makes for an idyllically mild June and July. You will even manage to head into the Indian Ocean when the sun's out (which it is on most days).
Durban's south coast
Perfect beaches  and one seaside resort after another – Umkomaas, Scottburgh, Pennington, Hibberdene, Southport, Ramsgate, Glenmore Beach – without the December crowds; it's got to be everyone's idea of bliss.
Nelspruit
Winter in Mpumalanga is tropical t-shirt weather, on the whole, although the mornings and evenings are a little nippy. But the Kruger is just down the road, and game is easier to spot at this time of year.
Barberton
This historical little former gold-mining town is a leafy collection of period buildings, intriguing historical walks, interesting folk, and some of the best preserved truly ancient rocks on Earth.
Kaapsehoop
Kaapsehoop lies above Nelspruit and is one of the best-kept secrets of the Lowveld. Up here there are mountain mists, a pack of wild horses that roam free, an endangered blue swallow, and a series of mysterious rocks known as Adam's Calendar.
Tzaneen
Famous for its tropical fruits (think mangoes and bananas), Tzaneen has a waterfall (Debengeni), an indigenous forest, a Rain Queen (Modjadjiskloof), the Magoebaskloof, and fantastic weather.
Haenertsburg
Mountains meet quaint town is the theme of this compelling village in the northern Drakensberg. On its doorstep are hiking and MTB trails, frequent mists, kloofs, indigenous forest and the Wolkberg Wilderness Area.
Sutherland
For a winter snow experience there is only a handful of villages, and Sutherland's proximity to Cape Town makes it a popular choice in the winter months, although timing your visit with snow is tricky.
Rhodes
This fairytale historical village lies right up in the Drakensberg highlands. Half the adventure is getting there, and if you're a 4×4 enthusiast then the promise of eight intrepid mountain passes is more than an incentive.
Hogsback
High up in the Amatola Mountains (the reason it gets intermittent snow) Hogsback's otherworldly charm and centuries' old indigenous forest, steep mountain roads and myriad hiking trails draws visitors at any time of year, but winter especially.
10 Top Attractions for Winter in South Africa
iSimangaliso Wetland Park
The country's now third-largest protected area in St Lucia includes Lake St Lucia and spans 280 km of coastline, a natural ensemble of lakes, swamp forest, ancient coastal dunes, and an estuarine system, with World Heritage status.
Kruger
One of the world's largest game parks, Kruger is one of the country's biggest draw cards, and never more so than during the winter months (outside of school holidays).
Hluhluwe-iMfolozi
One of the best parks at which to see black and white rhino, Hluhluwe-iMfolozi lies in the heart of Zululand close to the village of Hluhluwe, and manages to combine lush scenery with a network of hiking trails, and camping deep in the bush.
Blyde River Canyon
When it comes to dramatic beauty the Blyde River Canyon, the world's third deepest canyon, is hard to beat. Combined with the Panorama Route it is on every tourist's list and a winter must.
Cradle of Humankind
The World Heritage site just outside Johannesburg is where they unearthed the 2.3 million year old Mrs Ples. It's the world's richest hominid site, producing 40% of the world's fossils of our human ancestors.
Kgalagadi Transfrontier Park
It may be in the northerly reaches of the country but this vast semi-desert wilderness, with its surreal landscape, is almost twice the size of Kruger and incredibly hot between November to March. June to August (winter) is perfect, but take the woollies along for early mornings and evenings.
Drakensberg Highlands
The rugged and isolated Drakensberg highlands lie in the Eastern Cape at the southerly tip of this range of mountains, with Rhodes as the pivotal town. One of the country's least populated areas, some parts of which are practically unnavigable, one can only reach this area via a series of mountain passes, or hiking trails. It's great for snow in winter.
Matroosberg
One of the most likely spaces in the country to find snow on the ground during winter, the Matroosberg, just outside Ceres, boasts the highest mountain peak in the province.
Swartberg Nature Reserve
The Swartberg Pass is one of the most incredible mountain passes in the world; a dirt road that winds its way up to a summit of 1583 metres above sea level. It lies within the Swartberg Nature Reserve, flanked both north and west by other reserves that, combined, but one huge mountainous conservation area with snow on its peaks during winter.
Koue Bokkeveld
Explore the off the beaten track route between Ceres and Citrusdal (R303) and climb to where you'll find local fruit farms, a valley and a climate so different it will inspire the poet in you. As its name suggests, there is snow up here during winter.
Why? The 7 Doubleyous of Winter in South Africa
Weather
Most days during winter are clear. If you're heading to the Western Cape then there is a greater chance you'll run into rain, but if you stick to the more temperate provinces – KZN, Gauteng, Mpumalanga, Limpopo – there's every chance that South Africa's winter is better than the average European summer.
Wildlife
Not only are most of the game parks a lot milder at this time of year, but the thick bush of summer is dry and minimal during winter, which means you have far more chance of spotting game.
Whales
The southern right whale visits the Cape coastline during July/August, and seeing them is one of the highlights of any winter visit to the country.
Wildflowers
Technically the wild flowers bloom in 'spring' but they appear in what South Africans consider their winter – July and August.
Walks
Some of the country's best hikes are easier to do when the weather is cooler.
Waning crowds
There are fewer people visiting South Africa during the winter season, and even locals tend to stay home during the colder months.
Winter specials
Winter is regarded as the country's 'off season' and there are more special offers at this time of year than at any other, unless you're travelling in the school holidays.